Stay away from blue-green algae and keep your dogs safe
The British Veterinary Association (BVA) is urging pet owners to take steps to keep their dogs safe when walking near freshwater bodies this summer, as the warm weather brings with it an increased risk of toxic blue-green algae growth.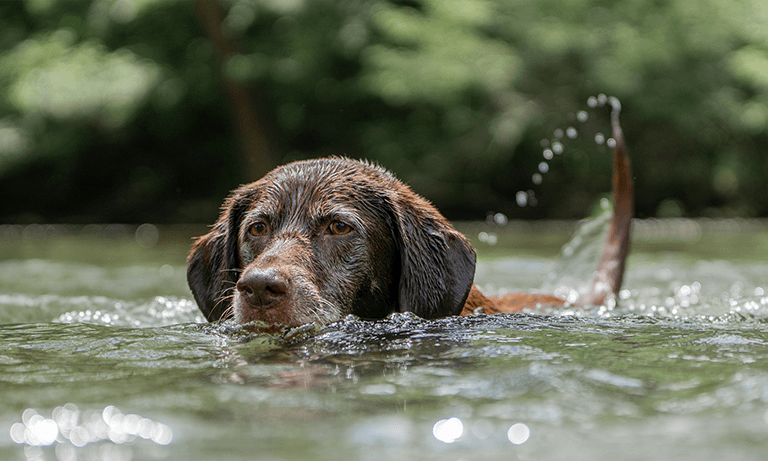 Blue-green algae, or cyanobacteria, is a group of bacteria that can contain dangerous toxins which can be harmful and potentially fatal to pets, livestock and birds if ingested even in small quantities. The algae may appear as green or greenish-brown scum on the surface of water like lakes and ponds. Dogs can swallow it by drinking water from an affected lake, river or pond or while licking their fur after going for a swim. It's also possible for dogs to come into contact with it even if they don't go for a paddle, as toxic blooms may be blown to the edges of water bodies.
The warning comes after several recent news reports of algal bloom sightings in lakes, ponds of rivers around the UK, including the Lake District and Shetland islands. Sadly, at the beginning of the month, it was reported that four dogs in County Fermanagh, Northern Ireland, and one dog in Conwy, Wales died after possible contact with blue-green algae. Confirmed sightings are identified by the UK Centre for Ecology and Hydrology's (UKCEH) Bloomin' Algae app, which encourages people to submit details and photos if they suspect they have spotted it.
Lots of dogs love water and will jump straight in when they see a body of water. Toxic blue-green algae is very difficult to identify, and, if ingested, can make dogs seriously unwell. It can even be fatal. It is very important to research an area, especially if it is a new area to you, before walking there. If blue-green algae is reported, it is common for signs to appear or for local group pages to make others aware, but this is not always the case. If you are unsure of the area, we would recommend keeping your dogs on a lead near the body of water.
Being aware of the symptoms is also vital as there is no known antidote for the toxins and prompt treatment is so important to help give your dog a chance of recovery. Symptoms can be quite sudden, even within minutes of exposure, but more commonly symptoms are seen within a few hours of exposure.
Symptoms include: 
Vomiting
Diarrhoea
Drooling
Disorientation
Trouble breathing
Seizures
Blood in faces
If you notice these symptoms suddenly, then it is important to speak to us as soon as possible, especially if you have been in an area of known blue-green algae, or your dog has been in a body of water very recently.
Top tips for pet owners
Look out for any warning signs near water bodies.
Keep pets on a lead and by your side around water bodies known or suspected to have a blue-green algal bloom – don't let pets swim in it or drink from it.
If your dog has been swimming outside, wash its coat thoroughly with clean water afterwards.
Seek emergency veterinary treatment if you're concerned your pet may have ingested toxic algae.
Report sightings of suspected blue-green algae with a photograph via the Bloomin' Algae app. You can also set up notifications for confirmed sightings in your area.
There are other ways to help your dog keep cool in the warmer weather: paddling pools can give them somewhere to cool off and you should always make sure they have access to clean water and shade if outdoors.